PVC Lining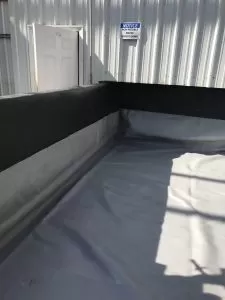 The team at Fab-Seal has over three decades of experience when it comes to offering tank lining solutions for our clients. We have created tank lining options for companies in a wide variety of industries. Our team has the ability to create tank lining systems for steel tanks, fiberglass tanks, wood tanks, concrete tanks, underground water vaults, pond liners, and many more. We strive to craft a lining that is the perfect shape and size for your application. Our staff of skilled technicians is trained to use the latest OSHA regulations as we build your ideal liner to ensure that you and your business remain compliant.
If you would like to find out more about the tank lining solutions offered at Fab-Seal, please call our team now at 800-874-0166. You may also reach out to any of our friendly associates by simply completing the easy to use form located on this page.
Proper Containment Solutions
At Fab-Seal, we will gladly help you find the proper containment solution with one of our tank lining options. The tank liners that we create are crafted to contain the most corrosive and inorganic materials. Each of our linings is created using updated techniques, state-of-the-art equipment, as well as some of the best materials offered on the market today.
Cost-Friendly Tank Lining Services
Fab-Seal is thrilled to offer cost-friendly rates on all of our tank lining options in order to best serve our customers. Our team aims to offer unmatched services in the industry at reasonable prices to best fit into your price range. Additionally, our team is known for offering highly competitive rates when we are compared to our top competition in the industry.
To find out more about the lining options available at Fab-Seal, please call our team today at 800-874-0166 or simply fill out the online request form on this page.
Have a question about our Secondary Containment Liners?
Contact a Fab-Seal representative, complete the form below.