PVC Lining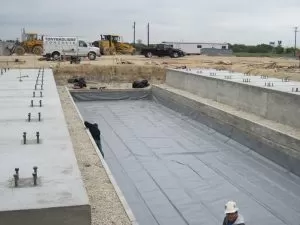 Fab-Seal has a great deal of experience when it comes to providing PVC lining solutions to our clients. We have the knowledge and resources available to take on any project imaginable, regardless of its shape or size. Our team happily provides lining options for a wide range of uses including liners that can contain inorganic and even corrosive materials.
To find out more about the services offered at Fab-Seal including our custom lining options, please call us today at 800-874-0166. Visitors can also find out more about our offerings by simply filling out the easy to use form on this page.
Custom Linings Crafted by Industry Professionals
At Fab-Seal, we strive to provide lining solutions that are custom to your needs, whatever those may be. Our team has proudly served businesses in a number of industries and has the ability to craft a custom PVC lining in the exact shape and size that you need. After your liner is created, our team then works to professionally install your PVC lining quickly and efficiently to minimize your downtime. Our services are compliant with all OSHA regulations and utilize state-of-the-art equipment the highest quality materials available to us to ensure your liner's durability.
Affordable PVC Lining Options
The team at Fab-Seal works to offer the best rates on custom PVC lining options. We differ from the competition in that we work to offer affordable prices on all of our offerings in order to best benefit our clients. Our team works to treat you fairly and provide you with a PVC lining that fits perfectly into your budget.
For more information on the affordable lining options available at Fab-Seal, give us a call now at 800-874-0166. You may also reach out to one of our helpful representatives by simply completing the online request form located on this page.
Have a question about our Secondary Containment Liners?
Contact a Fab-Seal representative, complete the form below.