Drop-in Liner Services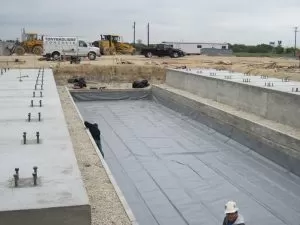 Fab-Seal specializes in providing our clients with effective containment solutions. We proudly offer decades of experience when it comes to designing and installing drop-in liner solutions. Our team of skilled technicians can create a drop-in liner that is custom to your exact needs. Whether you need a simple water tank liner or a complex liner intended to contain hazardous chemicals, the team at Fab-Seal can be your guide.
To find out more about liner offerings that we have to offer at Fab-Seal, please give our team a call today at 800-874-0166. Visitors can also reach out to one of our helpful professionals by simply completing the online request form located on this page.
Custom Drop-in Liner Solutions
The team at Fab-Seal can design and craft a drop-in liner specific to your application. When it comes to our services, no project is ever too big or too small for our team to take on. We utilize state-of-the-art equipment to manufacture your liner and use only the highest quality materials available to us to ensure its durability. Each liner that we provide is designed, created, and installed with OSHA regulations in mind to keep you and your team safe at all times.
Cost-Friendly Drop-in Liner Services
At Fab-Seal, we proudly offer affordable liner solutions without sacrificing the quality of our products and services. We are happy to work with you and your budget in order to tailor our services to best fit into your specific price range.
For more information on the services offered at Fab-Seal and our custom liner solutions, please call our team now at 800-874-0166. Visitors can also elect to receive more information on our liner services electronically by simply filling out the easy to use form conveniently found on this page.
Have a question about our Secondary Containment Liners?
Contact a Fab-Seal representative, complete the form below.