Custom Drop-In Liner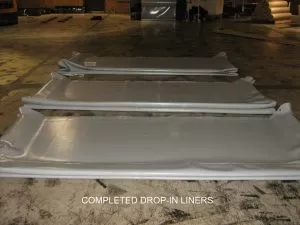 Benefit from 30 years of experience in the fabrication, installation, maintenance, and repair of custom drop-in liner solutions. Fab-Seal Industrial Liners, Inc. manufactures flexible PVC membrane lining systems that are a great solution for material containment, potable water storage, corrosive material storage, pond linings, and much more. Our liners will ensure that your stored materials are secure and can extend the life of your tank.
To learn more about our services and what we have to offer, please call 405-878-0166. One of our knowledgeable representatives will be available to provide more details regarding our custom drop-in liner solutions and can answer your questions. If you would prefer to send us a message instead, please fill out the form found on this page and we will contact you as soon as possible.
High-Quality Custom Drop-In Liner
Using the highest quality materials, our liners can deliver the results you need. Providing a containment level that you can trust. All our liners are manufactured within our facility and have extreme compatibility with the most inorganic and corrosive fluids. While we try to produce liners in one piece, those that are too large for transport are made into sections that are then installed using field seaming techniques.
Dependable Custom Drop-In Liner
Each one of our liners is thoroughly inspected for defects that can affect performance. Trust in our experience and proven results to provide the liner solutions you need. Our liners are used in a variety of industries and have been used in a variety of containment applications, including:
Fiberglass tanks
Wood Tanks
Waste Transportation Container Linings
Concrete Cisterns
Lagoon Liners
Steel Tanks
And More!
When you are ready to learn more about our custom liner solutions, please do not hesitate to call 405-878-0166. There you can speak with one of our knowledgeable team members who can answer questions you may have and can discuss your requirements in further detail. You can also send us a message by filling out the form found on this page and we will contact you shortly.
Have a question about our Custom Drop-In Liner Services?
Contact a Fab-Seal representative, complete the form below.