Secondary Containment Liner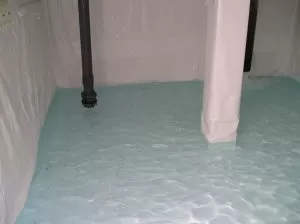 Fab Seal understands that when working with potentially dangerous substances, a secondary containment liner is an essential piece of gear. As a result of the uniqueness of our radio frequency sealing technology, we can significantly reduce maintenance downtime. The experts in their field, secondary containment liners from Fab-Seal, are constructed from only the highest quality materials.
A secondary liner is used to prevent leakage into the environment in the event of a breach in the primary liner. Our straightforward form on this page will deliver all the information, or give us a call at 1-800-874-0166 if you have any questions or feedback on secondary containment liners.
Five Types of Secondary Containment Liners and More
If you require a secondary containment liner, we have a team of experts who can provide it for you. As leaders in the field, Fab-Seal Industrial Liners, Inc. provides a variety of containment liner choices.
Among the many containment options, these five are provided by Fab-Seal Industrial Liners, Inc.:
Waste transportation container linings
Concrete Cisterns
Fiberglass tanks
Steel tanks
Clear well liners
For more than 30 years, Fab-Seal has provided secondary containment liner services, and no tank is too big or too small for Fab-Seal to design, fabricate, and install a liner. You can put your faith in Fab-Seal, a frontrunner in the field, for all your industrial containment liner system requirements.
The Liner of Safety
Our factory-trained, OSHA-compliant workforce may install our containment liner in a couple of days, minimizing production downtime. We're different from the competition since we turn over work quickly and provide excellent service to our clients. Fab-Seal has discovered that between 28 percent and 32 percent of nitrogen services and a primary containment liner can last for ten to fifteen years. At that point, a secondary containment liner is required in case of failure.
Compared to our rivals, Fab-Seal Industrial Liners, Inc. can supply and install a secondary containment liner at a far more reasonable price. To contact us regarding the containment liner, please use the form on this page or call 1-800-874-0166.
Have a question about our PVC Liner Services?
Contact a Fab-Seal representative, complete the form below.