PVC Liner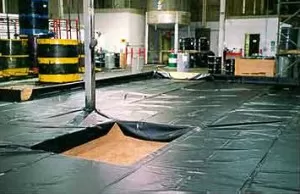 The team at Fab-Seal is proud to bring over 30 years of experience to our names when it comes to the creation and installation of PVC liners. In fact, we have built a reputation in the industry as a fair and reliable resource for all of your tank lining needs. Our team of liner professionals has created PVC liner solutions for every need imaginable. We customize our liner services in order to best fit our client's application as well as their budget.
If you would like to learn more about the PVC liner solutions available through Fab-Seal, please call our team today at 800-874-0166. Visitors can also get in touch with any of our professionals by simply completing the easy to use form located on this page.
High-Quality PVC Liner Services
Fab-Seal's mission is to provide the high-quality PVC liner solutions that our clients need for their specific application. Each liner that we have to offer is created with the best materials available to our team. We have the ability to take on any liner project that you may need, regardless of its shape or size. Your company will be able to rely on your new liner to contain hazardous chemicals and waste seamlessly.
Affordable Liner Solutions
At Fab-Seal, we look to provide affordable PVC liner solutions when we are compared to our top competition. We take a tremendous amount of pride in offering our PVC liner services at fair and reasonable prices to best benefit our clients. Unlike our competitors, our team works to take your budget into account before we build a containment liner plan for your need.
For more information on the liner solutions that we can offer to your business, please call Fab-Seal now at 800-874-0166. You may also reach out to one of our helpful representatives by simply filling out the online request form on this page.
Have a question about Drop-In Liners?
Contact a Fab-Seal representative, complete the form below.