Drop-In Liner Experts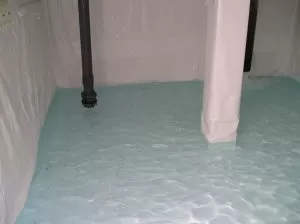 Fab-Seal Industrial Liners, Inc., a drop-in liner, is used to prevent corrosion and prolong service to the interior of your tank. Custom to shape and size fabrication installs are all completed on-site. Does your tank have outlets, sump, or pipe stands? Fab Seal's professionals will make the necessary adjustments and accommodations to secure your drop-in liner.
Resolving your leaking tank with a drop-in liner will restore service as downtime can be eliminated. Give our team a call today at 800-874-0166 to learn more. You can also reach out to any of our friendly professionals by simply completing the online request form found on this page.
Get the Drop-In Liner You Deserve
Fab-Seal with years of experience will formulate from various materials to develop the best drop-in liner your tank may require. Drop-in liners are your next steps in resistance to cracks on your concrete or steel tank. Temperature is considered when dealing with any chemical suitable for storing on your drop-in liner. The best case scenario is that Fab-Seal experts are aware of the tank use and entry point.
Most tanks are open top, and our technology works for a suitable drop-in liner. Steel tanks reap the benefit of a drop-in liner as secondary containment. Our experts place drop-in liners with an understanding of potential abrasions.
Get More from a Drop-In Liner Install
Improving the safety of your work environment and workplace can be fitted with your drop-in tank liner. Small and large projects for drop-in liner installs are met with experience. Choosing and delivering a reliable solution for your drop-in liner will be satisfied with the expectations of relieving the potential of leaks. Fab-Seal can meet every need, whether your drop-in liner requires repair or a new application.
Fab-Seal's drop-in liner will keep your mind on business going forward rather than worried about potential containments and leaks. Call the team at Fab-Seal Industrial Liners, Inc. today at 800-874-0166 to get started designing your ideal lining solution. Visitors may also reach out to one of our knowledgeable associates for more information by simply filling out the easy-to-use form on this page.
Have a question about our PVC Liner Services?
Contact a Fab-Seal representative, complete the form below.