Tank Lining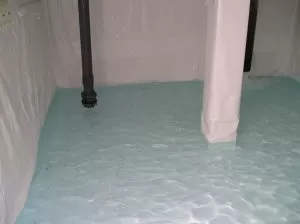 Flexible Poly Vinyl Chloride tank lining has been made and installed by Fab-Seal Industrial Liners, Inc. experts for more than three decades and some years. Our experts in the field will design, make, fabricate, and install tank lining for a wide range of industrial uses, such as tanks, cisterns, chemical, and waste transport liners.
Call 800-874-0166 now to talk to a knowledgeable Fab-Seal Industrial Liners, Inc. representative about how we can help with your professional industrial tank lining needs.
Tank Lining Uses 
Tank lining from Fab-Seal is made of a blend of PVC membranes and is thick enough to work for most industrial containment uses and applications. Many different inorganic, alkaline, and corrosive chemicals don't hurt our flexible tank linings. Tank linings from Fab-Seal are custom-made, one-piece liners that are made in our factory using the most modern radio frequency sealing technology. Our lining cuts down on the downtime that is usually caused by fabrication and coatings that have to be done on-site.
Fab-Seal has an option for industrial lining installation that is compatible with most inorganic and corrosive materials and doesn't cost too much. And our trained and experienced engineers, technicians, and mechanics can install most of Fab-Seal's larger metal and concrete tank linings in a week or less.
Industry Standard Approved    
At Fab-Seal, we have a team of skilled professionals who can teach you how to install a PVC lining. We can also offer full tank lining installation by trained installation crews using OSHA-approved equipment. The trusted and reliable team at Fab-Seal can work on any size ship or job. Call 800-874-0166 right away to find out how the experts at Fab-Seal Industrial Liners, Inc. can help you make and install tank linings. Or, click the button that says "Get an Estimate," and one of our representatives will get back to you soon.
.
Have a question about our PVC Liner Services?
Contact a Fab-Seal representative, complete the form below.