Liners for Fertilizer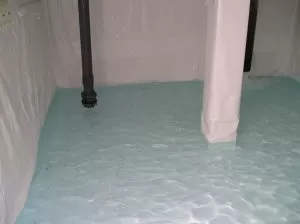 Fab-Seal is a renowned manufacturer of liners for fertilizer applications. With their expertise and high-quality products, we have established ourselves as a name in the industry. Liners play a crucial role in the fertilizer industry by providing a protective barrier between the fertilizer and its surroundings. Fab-Seal's liners are designed to prevent leakage and contamination, ensuring that the fertilizer remains safe and effective.
One of the key advantages of Fab-Seal liners is their durability. Made from premium materials, these liners are built to withstand the harsh conditions associated with fertilizer storage and transport. Liners are resistant to chemicals and UV radiation, ensuring a long lifespan and reliable performance. To ensure the safety of the environment, please contact us at (405) 878-0166 or fill out the provided form for a prompt response via online communication.
Large or Small Liner Installation
Fab-Seal offers liners in various sizes and configurations to suit different fertilizer storage needs. Whether you require a liner for a small-scale operation or a large industrial facility, we can provide a customized answer to meet your specific requirements. Installation of Fab-Seal liners is a straightforward process. Our team of experts ensures a seamless installation, taking into factors such as the type of fertilizer, storage conditions, and any specific challenges that may arise. This ensures that the liners are properly fitted and will function optimally.
In addition to their functional benefits, Fab-Seal liners also contribute to environmental sustainability. By preventing leakage and contamination, they help reduce the risk of soil and water pollution. This is especially important in the fertilizer industry, where proper handling and containment are crucial for maintaining ecological balance.
Quality and Safety with Liners for Fertilizer  
Fab-Seal's commitment to quality extends beyond our products. We prioritize excellent customer service, providing guidance and support throughout the entire process, from product selection to installation and beyond. Our knowledgeable team is always ready to address any concerns or questions you may have. To summarize, Fab-Seal offers high-quality liners for fertilizer applications. Our liners are durable and reliable providing essential protection against leakage and contamination. With a customized solution and excellent customer service, Fab-Seal is a trusted partner for the fertilizer industry.
By choosing Fab-Seal, you can ensure the safe and efficient storage and transport of your fertilizer while contributing to environmental sustainability. Let's keep the environement safe at (405) 878-0166 or fill out the simple form provided so we can deliver an answer over internet communication.
.
Have a question about our PVC Liner Services?
Contact a Fab-Seal representative, complete the form below.