Custom PVC Liner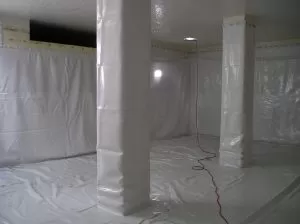 Finding the best custom PVC liner solution can be simple when you work with Fab-Seal Industrial Liners, Inc. We have over 30 years of experience providing liner solutions to a variety of industries and applications. Our flexible PVC (Poly Vinyl Chloride) liners have been used in applications like:
Fiberglass Tanks
Wood Tanks
Concrete Cisterns
And more!
If you would like to learn more about our services and products, please call 800-874-0166 to speak with one of our knowledgeable team members. They can answer any questions you may have regarding our custom PVC liners and can discuss your application in more detail. To send us a message instead, please fill out the form found on this page and we will contact you as soon as possible.
Custom PVC Liner Design
As a leading designer and manufacturer of tank liners, we can produce the precise liner solutions you need. We will work with you to define all the requirements of your intended application to determine all the liner specifications. Once the scope is completely defined, we will design and manufacture a liner that meets all the defined specifications, precisely meeting all requirements before installation.
Custom PVC Liner Installation
Once production is complete, we will work to schedule a time that will work best to begin the installation Our professional design generally allows installation to be complete in less than a week by our OSHA compliant trained technicians. To reduce installation preparation times, our liners are mechanically attached around the perimeter using batten strips and anchors. This procedure prevents 75% of the normal preparation time.
When you are ready to learn more about our custom PVC liner solutions, please do not hesitate to call 800-874-0166. One of our experienced associates will be available to answer all your questions and provide more information regarding our process and services. You can also send us a message by filling out the form found on this page and we will contact you shortly.
Have a question about our Custom PVC Liners?
Contact a Fab-Seal representative, complete the form below.