Drop-In Liner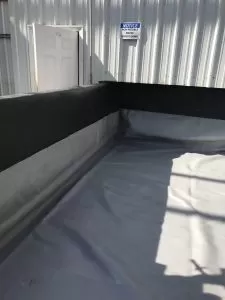 The team at Fab-Seal is capable of providing you with the perfect drop-in liner for your exact need. We have over 30 years of experience in serving our clients in all of their containment needs. Whether you're looking to contain leaking holding tanks or a secondary containment liner, the team at Fab-Seal has what you need. Our staff can provide you with an industrial liner for any project, no matter the shape or size.
For more information on how an industrial liner from Fab-Seal can accommodate your containment needs, please call us now at 800-874-0166. Visitors can also get in touch with one of our friendly professionals by simply filling out the online request form on this page.
Expertly Crafted Drop-In Liner
The industrial liner solutions offered by Fab-Seal are created by experts in the field who have extensive experts in creating membrane lining systems. When you work with us, you can trust that you are receiving a high-quality drop-in liner made using a flexible material that makes it simple to shape your drop-in liner for your specific holding tank. Your new drop-in liner will easily attach and detach from the holding tank to allow you to easily contain your material. We have provided drop-in liners for a wide variety of industrial uses and can tailor our services to fit your needs.
Cost-Friendly Liner Services
Fab-Seal is dedicated to providing affordable liner services to our clients looking for a high-quality product. Our tank liner options are considerably more cost-friendly than our top competition in the industry.
If you would like to learn more about our cost-friendly industrial liner services, call Fab-Seal today at 800-874-0166. You may also get in contact with any of our knowledgeable associates by completing the easy to use form located on this page.
Have a question about Drop-In Liners?
Contact a Fab-Seal representative, complete the form below.