Cistern Liner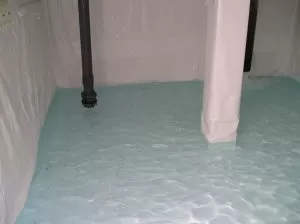 For almost 30 years, Fab-Seal Industrial Liners, Inc. has been designing, producing, and installing cistern liner solutions for various applications. Fab-Seal manufactures lining choices for most containment applications, including resistance to inorganic and alkaline earth metals and a wide range of other corrosive compounds. Contact our staff to learn more about how we can design a cistern liner based on your specifications.
Don't hesitate to get in touch with us at 800-874-0166 for additional information on the liner solutions developed by Fab-Seal. Visitors may also contact any of our helpful specialists by filling out the online request form on this website.
Cistern Liner Custom Fitment
When it comes to your cistern storage tank, the cistern liner services provided by Fab-Seal are the best alternative. Each of our liners is custom-made to meet the exact dimensions of your tank, resulting in a water-tight system that prevents leaks during the liquid storage process. Our cistern liner options will extend the life of your tank and improve its storage capacity.
Fab-Seal liners are designed by our experienced and skilled team of specialists at our state of the art facility, which employs cutting edge radio frequency sealing technology for our liners. In addition, to minimize your downtime, we provide speedy and effective installation services.
Quality and Affordable Cistern Liner
With changes and upgrades many often time money can become an issue. Our staff and team are eager to ensure accommodation with pricing. Downtime can change a business's history and future. At Fab-Seal, we try to provide liner solutions at affordable prices to meet the demands of our customers. Get an estimate for an environment liner!
Call 800-874-0166 to learn more about how Fab-Seal can help you with your unique needs. You may also contact one of our friendly employees by filling out the simple form on this page.
Have a question about our PVC Liner Services?
Contact a Fab-Seal representative, complete the form below.