Custom Drop-In Liner Solutions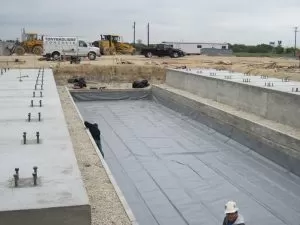 Fab-Seal Industrial Liners, Inc. is your resource for custom drop-in liner solutions. We offer tank cleanings, liner repair, and can create liners of any shape or size imaginable with expert installation. Our experts can cover water tanks, floor coverings, environmental liners, fertilizer tanks, and much more. We fabricate one-piece liners using the most advanced technology in our factory.
Our in-house custom drop-in liner solutions can be the perfect solution for your tank. Our team of experts works with you to devise the ideal solution for your specific tank. Fill out the online request form located on this page and our team will reach out to you as soon as possible. You may also reach our team by calling 405-878-0166.
Industrial Custom Drop-In Liner
Your lining system may need repair and Fab-Seal Industrial Liners can help you as custom drop-in liner solutions are our specialty. Our team of experts understands what to look for when they visit a job site. Using flexible PVC liners creates the strongest material to use for your tank lining. This material creates a longer life expectancy for your tank.
The best part of using this flexible PVC material is that it easily meets your needs for forming any space. The environment is always a concern. Our eco-friendly materials are compatible with both organic and inorganic substances. Our process is simple so that our customers can have a stress-free experience.
High-Quality Custom Drop-In Liner
The expert installation of our custom drop-in liners stops leakage with the proper materials. Our team uses radio frequency equipment to seal each piece of your liner together just as we would in our warehouse. This helps limit your tank's downtime and allows us to simplify our process. We look forward to helping you create the perfect custom lining solution for your needs.
Call us today at 405-878-0166 to learn more. Alternatively, you can also receive more information on our services by simply completing the easy-to-use form on this page.
Have a question about our PVC Liner Services?
Contact a Fab-Seal representative, complete the form below.