Secondary Containment Liner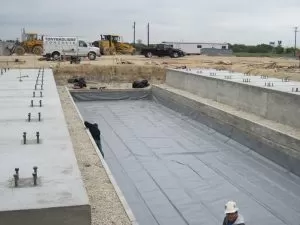 Fab-Seal has built a reputation in our industry as the top resource when it comes to creating secondary containment liner solutions. Our team aims to offer your tank the perfect liner solution for your needs at fair and reasonable rates. We are proud to offer secondary containment liner solutions that offer a resistance to inorganic, alkalis, as well as a wide range of corrosive chemicals. Fab-Seal can be very flexible with our services and has created linings for a wide range of containment applications for clients in a variety of industries. Contact our team now to learn more about the liner solutions we can provide to you.
To learn more about the liner services offered at Fab-Seal, please give our team a call now at 800-874-0166. Visitors can also reach out to any of our friendly professionals by simply completing the online request form on this page.
OSHA Compliant Liners
At Fab-Seal, we work to provide custom secondary containment liner services to ensure the integrity of your containment tank. In the event of a primary liner failure, your secondary containment liner is your failsafe to ensure you don't have to worry about a leak. All of our liners are crafted using a state-of-the-art dielectric, or radiofrequency process that creates a strong seal that will ensure a quality and long-lasting liner. Our team also offers services that consider all necessary OSHA regulations to ensure your liner and tank remain in compliance. Our staff of expert technicians also provide expert on-site installation services in a timely manner to offer a comprehensive liner solution to our clients while limiting their downtime.
Cost-Friendly Secondary Containment Liner Solutions
Fab-Seal works to provide liner solutions at highly competitive rates when we are compared to our top competition. Give our team a call today at 800-874-0166 to find out more about how our team can best serve your liner needs. You may also get in touch with any of our helpful associates by filling out the easy-to-use form found on this page.
Have a question about our PVC Liner Services?
Contact a Fab-Seal representative, complete the form below.