Quality PVC Liner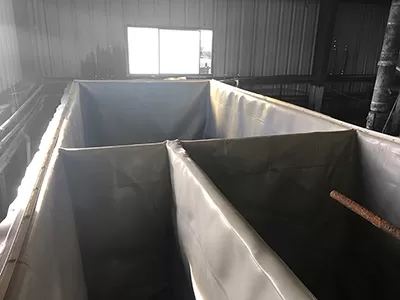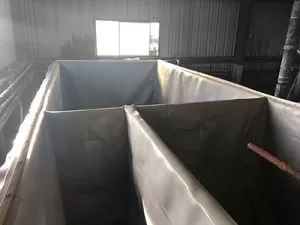 For over 30 years Fab-Seal has been in the business of providing quality PVC liner services. We manufacture, fabricate, and install our PVC (Poly Vinyl Chloride) lining systems for a wide variety of applications. Our PVC membrane is offered in a blend and thickness that is applicable to most containment applications. This membrane stands up to inorganic and alkalis as well as a wide range of corrosive chemicals.
When you are ready to learn more about our quality PVC liner, please do not hesitate to call 800-874-0166. There you will be able to speak with one of our trained associates who will be able to answer any questions you may have. If you would prefer to send us a message, please fill out the form found on this page and we will contact you as soon as possible.
Quality PVC Liner Installation
If you need a new PVC liner installation, working with us is easy. We will start with the process with a consultation, this will be followed by an estimate. Once you approve of the estimate, our team will work with you to schedule the installation. Our team will then arrive at your location and begin the installation. You will receive updates from the beginning to the end of the service. Once the installation is complete, we will perform a final review of the tank and operating structures will be performed. Our team is OSHA certified, will follow OSHA guidelines, and will wear all necessary OSHA approved equipment.
Quality PVC Liner Services
Fab-Seal offers PVC liner services to a wide range of tanks and containers, which include:
Wood tanks
Waste transportation container linings
Underground vaults
Steel tanks
And more!
To learn more about our quality PVC liner services, please call 800-874-0166 to speak with one of our knowledgeable representatives. They will be available to answer all your questions and can provide more detail regarding our process. You can also send us a message by filling out the form found on this page and we will contact you shortly.
Have a question about our PVC Liners?
Contact a Fab-Seal representative, complete the form below.