Secondary Containment Liner Services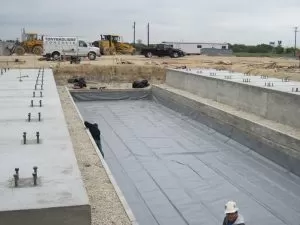 Fab-Seal is a leading manufacturer of flexible PVC (Poly Vinyl Chloride) membrane linings that are used for a wide range of containment applications. As the manufacturer, we can provide custom for primary, and secondary containment liner services. Our liners are sealed using a state-of-the-art dielectric, or radiofrequency. This process joins the parts of the liner and creates a strong seal that will ensure a lasting and quality liner. For liners that are too large to be fabricated in one piece, the sealing process can be completed on-site.
For more information regarding our secondary containment liner services, please do not hesitate to call 800-847-0166. One of our knowledgeable associates will be available to answer any questions you may have regarding our products or services. You can also send us a message by filling out the form found on this page and we will contact you as soon as possible.
Professional Secondary Containment Liner Services
Our secondary containment liner services can help ensure the integrity of your containment solution holds in case of primary liner failure. Fab-Seal's PVC membrane is resistant to inorganic, alkalis, and is also resistant to a wide range of corrosive chemicals. We offer a wide range of services that includes installation, cleaning, and liner repair. No matter what your containment liners needs are, we are here to help.
Complete Containment Liner Services
Working with us is simple. Once you contact us, one of our staff members will discuss your needs and specifications. Based on the consultation, we will provide you with an estimate for your requested services. Once the estimate is approved, we will work with you to schedule a time and our team will come on-site with all the necessary equipment. You will be informed of all progress from start to finish during the installation process. At the end of the installation, we will perform a final inspection and may suggest additional maintenance services.
When you are ready to learn more about our containment liners, please call 800-847-0166 to speak with one of our representatives. They will be able to take your call and answer all your questions about our process or services. To send us a message instead, please fill out the form found on this page and we will contact you shortly.
Have a question about our Secondary Containment Liners?
Contact a Fab-Seal representative, complete the form below.