PVC Liner Solutions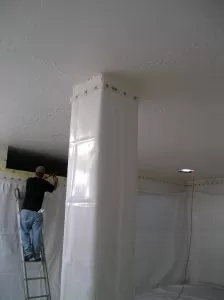 Offering over 30 years of experience, we are ready to provide the PVC liner solutions you are looking for. Our liners are made from the highest quality materials and are manufactured with the capability to handle even the most inorganic and corrosive fluids. Ensure your tank lining solution performs as needed, contact Fab-Seal Industrial Liners, Inc. today!
For more information regarding our services or liners, please call 800-874-0166 and speak with one of our representatives. They will be available to discuss your requirements and can answer all your questions regarding our PVC liner solutions. You can also send us a message by filling out the form found on this page, and we will contact you as soon as possible.
Custom PVC Liner Solutions
Each job has its requirements, and you want to ensure that your liner has you covered. Our membrane lining systems can be installed in steel tanks, fiberglass tanks, concrete tanks, clear well liners, pond liners, pit liners, and more. And as a manufacturer, we can provide a solution that is tailored to your application. We make liners to a variety of thicknesses depending on the requirements, from 40mils to 1875mils.
Professional Liner Solutions
Through our extensive experience enables us not only to manufacture sensible and cost-effective solutions. We can also provide efficient deployment and installation. Each of our technicians trained in confined space installation using OSHA approved equipment. You can also take advantage of our tank cleaning and liner repair services. Whatever your tank lining needs are, we are here to help, call today!
When you are ready to learn more about our liner solutions, please do not hesitate to call 800-874-0166. One of our team members will be available to answer questions you may have and can provide more details regarding our services. To send us a message instead, please fill out the form found on this page and we will contact you shortly.
Have a question about our PVC Liner Solutions?
Contact a Fab-Seal representative, complete the form below.