Drop-In Liner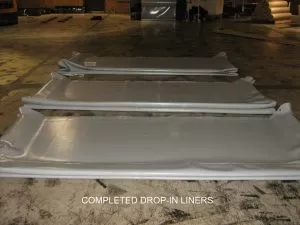 Work with Fab-Seal Industrial Liners, Inc. to find the perfect liner solution for your project. Our drop-in liner products are manufactured and installed to your specifications and requirements. With over 30 years of expert design, you can trust us to deliver the results you need. Contact us today to discuss your needs and begin the process of fabrication, installation, or repair of your liners.
For more information regarding our drop-in liner services, please do not hesitate to call 405-878-0166. There you can speak with one of our knowledgeable representatives who can answer your questions and can provide more information regarding our products. If you would prefer to send us a message, please fill out the form found on this page and we will contact you as soon as possible.
Custom Drop-In Liner
Our liners can be fabricated to your specifications. Through the consultation process, we will define the complete requirements and dimensions necessary. This will be what we use during the manufacturing process of your liner. Liners are normally fabricated in one piece that will perfectly fit within the tank that has been discussed. If a liner is too large to move in one piece, it will be manufactured in pieces that will be assembled on-site using state-of-the-art dielectric sealing equipment.
Durable Drop-In Liner
Every one of our liners is manufactured with the highest quality materials available and is manufactured with extreme compatibility to most inorganic and corrosive fluids. Our liners offer a great solution to industries like the chemical and oil industry. While still offering eco-friendly solutions and serving as pond and potable water tank liners.
To learn more about what we have to offer, please call 405-878-0166 and speak with one of our representatives. They can answer questions you may have and can provide more information regarding our drop-in liners. You can also send us a message by filling out the form found on this page and we will contact you shortly.
Have a question about our Custom Drop-In Liners?
Contact a Fab-Seal representative, complete the form below.