Portable Water Liner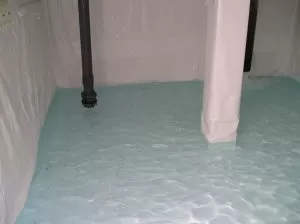 Fab-Seal Industrial Liners, Inc. is the best company to go to. When you need a portable water liner for a wide range of industrial uses we have what you may need. Radiofrequency sealing technology allows Fab Seal to make custom one piece liners in our state of the art factory. Our high quality portable water liner at Fab Seal is very resistant to inorganic and alkaline chemicals and a wide range of other substances that can cause corrosion.
If you have any questions or comments about a portable water liner, please call us at 1-800-874-0166 or fill out the form to the right, and a representative will get back to you as soon as possible.
Quality Liner Development
All linings for portable water tanks must meet certification requirements. The liner means that water tanks must be inspected to ensure that the materials used to make the lining can protect against UV light without using harmful plasticizers like PVC. Liners not only have to be able to handle everyday wear and tear to keep from letting water through, but they can do this without the need for an underlayment.
Not only that, but repairs are a lot easier with these materials. Portable water liners can be fixed on site without hurting the liner's integrity. The quick work means that when repairs need to be made, there aren't as many breaks in service.
Affordable Water Liner
Our portable water liner's material and labor costs are much lower than our competitors, and you will get a high quality product that will last. Our radio frequency sealing technology is unique and will cut down on downtime. Please fill out the form for any comments about our portable water liner. An associate will get back to you soon, or you can call us at 1-800-874-0166 to talk to a friendly representative.
Have a question about our PVC Liner Services?
Contact a Fab-Seal representative, complete the form below.