Tank Lining Services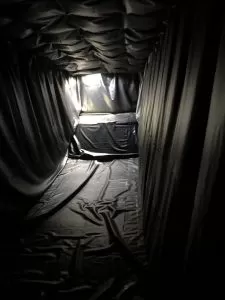 Fab-Seal Industrial Liners, Inc. features tank lining services meeting the requirements set forth by a variety of industries and applications. Our liners are manufactured using only the highest quality materials available to ensure the best possible performance and results. Let us provide solutions to all your containment needs and trust in our commitment to quality service and results.
When you are ready to learn more about our process and capabilities, please call 800-874-0166 to speak with one of our representatives. They can discuss your requirements in more detail and can answer any questions you may have regarding our tank lining services. You can also send us a message by filling out the form found on this page and we will contact you as soon as possible.
Dependable Tank Lining Services
All our liners are designed and manufactured in-house to ensure the highest-quality results. Our team also offers installation services that ensure proper coverage and reduces the risk of liner failure. Installations normally take less than a week to complete thanks to our professional design. Based on your requirements, main liners, and secondary liners can be installed, depending on the application requirements. Our liners are manufactured with extreme compatibility with the most inorganic and corrosive fluids.
Experienced Tank Lining Services
With over 30 years of experience in the industry, we understand the requirements of most applications. Through our experience and compatibility studies, we can make recommendations on thickness and composition to best suit your needs. Our liners have served industries like oil, chemical, agricultural, and can even be used for lining ponds and portable water tanks.
If you would like to learn more regarding our lining services, please do not hesitate to call 800-874-0166 and speak with one of our team members. They will be available to answer all your questions and can provide more details regarding our services. To send us a message instead, please fill out the form found on this page and we will contact you shortly.
Have a question about our Tank Lining Services?
Contact a Fab-Seal representative, complete the form below.