Drop-In Liner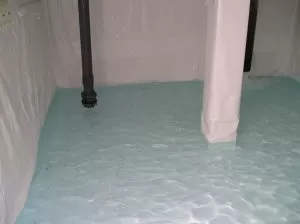 Fab-Seal Industrial Liners, Inc. takes great pride in producing a heavy-duty and adaptable industrial drop-in liner that only requires one piece. Drop-in Liners are custom-made to fit your exact specifications. Fab-Seal has been providing other high-quality PVC membrane lining systems for various ranges of industrial applications for over 30 years.
Talk to a knowledgeable sales associate about our Drop-in Liner for holding tanks by calling 800-874-0166 and contacting Fab-Seal Industrial Liners, Inc. Email us by using the contact form on this page. We will return every possible direction and information to help with your best decision.
Excellence in Application 
Our simple to install drop-in liners can be used for a wide range of containment needs. For more than 30 years, Fab-Seal has set the standard for excellence in producing, fabricating, and installing PVC membrane lining systems. There are many applications for drop-in liners in the manufacturing sector. Fab-industrial Seal's drop-in liners are robust enough to be used as secondary containment areas or to contain leaks from holding tanks.
Our drop-in liners for plating and metal finishing can be made from a single piece of material and can be secured to a holding tank application developed for your specific needs.
Solutions Provided with Drop-In Liner 
Professionals at Fab-Seal work hard to fulfill orders for premium drop-in liners tailored to each customer. Our available drop-in liner solutions are crafted by skilled professionals who deliver OSHA-compliant service on every job. Our liners are produced from the highest quality materials and can be tailored to any tank size. Rely on our tried and trustworthy technicians to provide you with top-notch liner installation services and get your tank operational again in no time.
You should call Fab-Seal at 800-874-0166 to learn more about the custom drop-in liners we can make for you. By filling out the straightforward form on this page, site visitors can communicate with a member of our expert staff.
Have a question about our PVC Liner Services?
Contact a Fab-Seal representative, complete the form below.