Create a PVC Liner Custom to Your Needs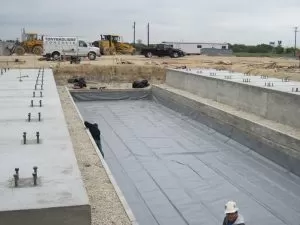 Fab-Seal takes tremendous pride in offering PVC liner services to our clients looking to solve their containment issues. We create and install liners for a multitude of needs including the containment of both organic and inorganic materials. Our team always offers a free consultation and quote on your project before beginning any work to ensure that our solutions are exactly what you're looking for.
If you would like to learn more about the custom PVC liner solutions offered at Fab-Seal, please call our team now at 800-874-0166. Visitors can also get in touch with any of our helpful associates by simply completing the easy to use form conveniently found on this page.
Expert PVC Liner Fabrication and Installation
The team of professionals at Fab-Seal is capable of serving any of your liner needs. We have the skills and experience needed to design and create your PVC liner solution to fit your exact situation. The tank liners that we can create can be made to fit any tank regardless of its size or shape. Additionally, we offer the services of experts when it comes to installing your liner quickly and efficiently. Our staff of technicians are fully trained and use only OSHA approved equipment to ensure that your liner is built to last.
Affordable PVC Liner Solutions
At Fab-Seal, we believe in providing our clients with the best services at the best value. That is why we aim to always provide our PVC liner services at fair and affordable rates to benefit our customers. We will gladly work with your budget to create a liner that meets all of your specific needs.
For more information on the liner solutions provided by the team at Fab-Seal, give us a call now at 800-874-0166. You may also reach out to one of our friendly professionals by simply filling out the online request form located on this page.
Have a question about our Secondary Containment Liners?
Contact a Fab-Seal representative, complete the form below.