P.V.C Liner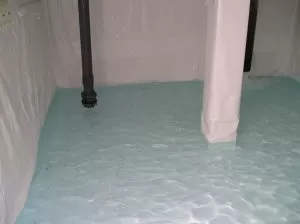 Fab-Seal Industrial Liners, Inc., a worldwide PVC liner expert, can manufacture for any possible environment. PVC liner is highly flexible and used in different thicknesses based on containment needs. PVC liner can last upwards of twenty years. With so many benefits to using PVC liners, such as custom fittings, flexibility, and UV resistance, your Fab-Seal expert will deliver the best outcome for your tank.
The value of using PVC for your current tank can change your business results. Give our team a call today at 800-874-0166 to learn more about our lining systems. You can also reach out to any of our friendly professionals by simply completing the online request form found on this page.
Reasons for PVC Liner Use
Meeting your needs with prefabrication is concluded into sheets or a half. The installation process will then be performed with state of the art sealing equipment. Color and thickness play a significant role in delivering the proper PVC liner as resistance is developed by chemicals, oils, and other affiliated contaminants. PVC liners and our experts are affiliated with OSHA certifications.
Fab-Seal meets every seam and seals with years of experience using PVC liner. The wide application of this product enables our Fab-Seal experts a variety of field experiences fitting to all needs. Many states require not just one but two containment storage locations above ground. Fab-Seal is knowledgeable and aware of your business needs regarding containment and PVC liner is leading our efforts.
PVC Liner State Review
Fab-Seal wants you to stay compliant and away from environmental fines. Let us handle the safety and care of your tank as you can focus on just your business aspects. Call the team at Fab-Seal Industrial Liners, Inc. today at 800-874-0166 to get started designing your ideal lining solution. Visitors may also reach out to one of our knowledgeable associates for more information by simply filling out the easy-to-use form on this page.
Have a question about our PVC Liner Services?
Contact a Fab-Seal representative, complete the form below.