PVC Liner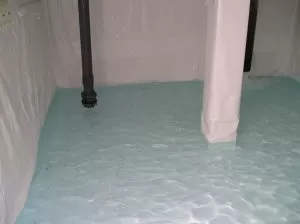 Fab-Seal is very proud to offer PVC lining services to clients who need help with their containment problems. We make and install liners for various uses, such as keeping organic and inorganic materials in place. Before starting any work, our team always gives you a free consultation and quote on your project to ensure that our solutions are precisely what you need.
We love to give you all that you need to learn more about the custom PVC liner solutions that Fab-Seal offers, please call us at 800-874-0166. Visitors can also get in touch with any of our helpful employees by filling out the electronic easy form on this page, which is easy to use.
Custom and Qualified Liner 
The experts at Fab-Seal are able to assist you with all of your liner requirements. We are equipped with the expertise and know-how to custom design and manufacture a PVC liner solution that is tailored to your needs. We are able to design tank liners that are adaptable to any tank, irrespective of its size or shape. We also have professionals on staff that are capable of installing your liner in a timely and effective manner. To preserve the longevity of your liner, our highly qualified experts will only utilize instruments that have been granted OSHA approval.
Quality for the Affordability in Our PVC Liner 
At Fab-Seal, we are committed to providing the highest quality services at the most competitive prices. As a result of this, we provide our PVC liner services to our clients at pricing that are reasonable and easily accessible. We will be pleased to tailor a liner to meet all of your requirements while working within your financial constraints.
Give us a call at 800-874-0166 to find out more about the liner solutions that Fab-Seal has to offer. You can also get in touch with one of our experts by filling out the online request form.
Have a question about our PVC Liner Services?
Contact a Fab-Seal representative, complete the form below.